New Shine CNC Dot Peen Marking Machine (HS-DEseries) DE-01, DE-02
Brand :

New Shine

Product Code :

NS-DE-0102

Availability :

1
New Shine CNC Dot Peen Marking Machine (HS-DEseries)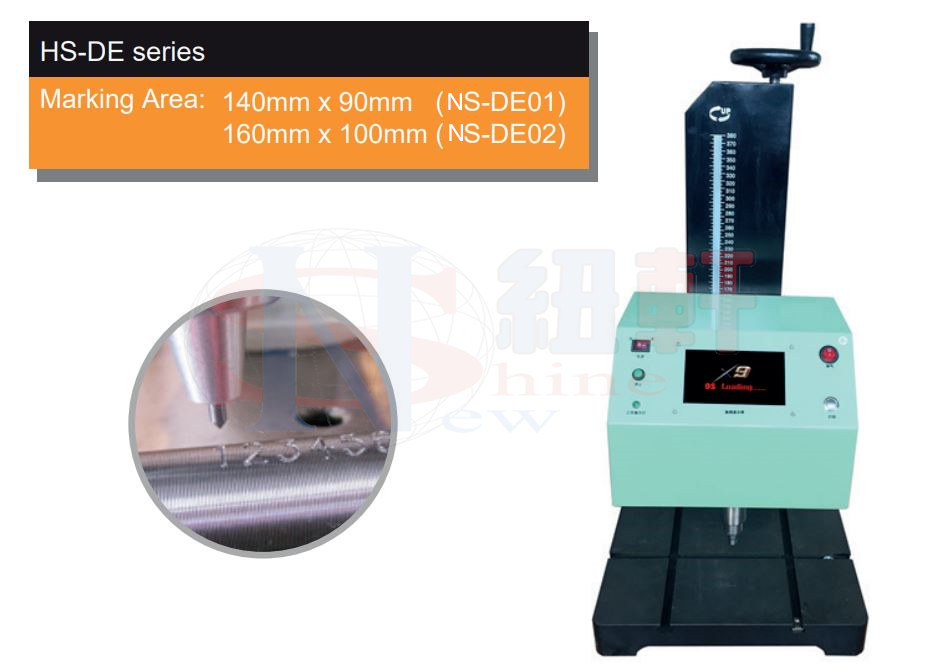 The CNC integrated Dot peen marking machine from New Shine features a highly integrated touch screen and software. It is highly convenient to use for your everyday marking requirements. This highly precise and reliable marking unit helps in quick and accurate marking. You can save a lot of time and cost which can be utilized for other productive tasks. This is a highly versatile machine and you can use them on multiple products – from industrial grade metals to hard plastics.
Marking using hard tungsten alloy pins, which last for one year with normal usage. Compact, heavy duty construction provides reliable, efficient and quick marking. Clear and deep marking that creates permanent marks . Can be used to mark on uneven surfaces such as metal tubes and rods. The marking content include English letters and numerals, graphics, logos, dot matrix ,circled text and special symbols. Can be used to mark metal part identification, part numbering, lot/shift/batch codes, nameplate engraving, date & time marking, etc.
HS-DE series marking machine include software and touched screen, no need PC any more.
● Imports logos & graphics ● Round letters marking
● Automatic marking ● Characters outline marking
● Automatic serialization ● VIN code marking
● Standard letters marking ● Chart marking
The marking machine is accomplished through an incorporated touchscreen, no need connect computer or air compressor to work. This gives direct control of the machine, and helps to minimize the compatibility and latency problems common on many other engraving machines. The HS-DE series also has USB ports, you also can save your design file, connect mouse, keyboard etc..
Features & Benefits
■ Ease of Use Robust and easy to install, no need connect computer or air compressor. Easy to operate. We will supply detail manual guide. Low maintenance with long-life of the marking pins Low electrical consumption
■ Performance High speed: 40mm – 50mm/S High marking precision and accuracy HEF technology can support uneven surface marking The machine can mark part hardness up to HRC60
■ Customization Fixture holder for holding products Marking window sizes
■ Reliability Hard-alloy Tungsten marking pins Marks parts with height up to 300 mm Rated power 100V-240V 50HZ/60HZ
The HS-DE Series Integrated Dot Peen marking machine has been designed for ease of use and adaptability to a variety of applications and industries such as Electronics, Metal Processing, Vehicle, Medical and Aerospace. High precision levels and unmatched convenience are the traits it is endowed with..
Marking
1.Direct Part Marking (DPM) (process of permanent marking with barcodes. This makes tracking of parts through the full life cycle possible). Component Identification and Traceability Stock Metal engraving & marking – Stainless steel, brass, aluminum, copper, titanium Metal tagging, labeling and pipe marking - Aluminum, steel, copper etc. Lot Numbering
2.VIN Code and Nameplate marking
3.Cast and Forge marking
4.Gear pump and Engine rod marking
5.Time & Date marking
6.Part, Equipment and Tools marking
7.Batch & Shift coding Metal label marking