New Shine The NS-PC Series Portable Dot Peen Marking System (NS-PC) PC-01, PC-02, PC-03, PC-04
Brand :

New Shine

Product Code :

NS-PC01~04

Availability :

1
New Shine The HS-PC Series Portable Dot Peen Marking System (NS-PC), PC-01, PC-02, PC-03, PC-04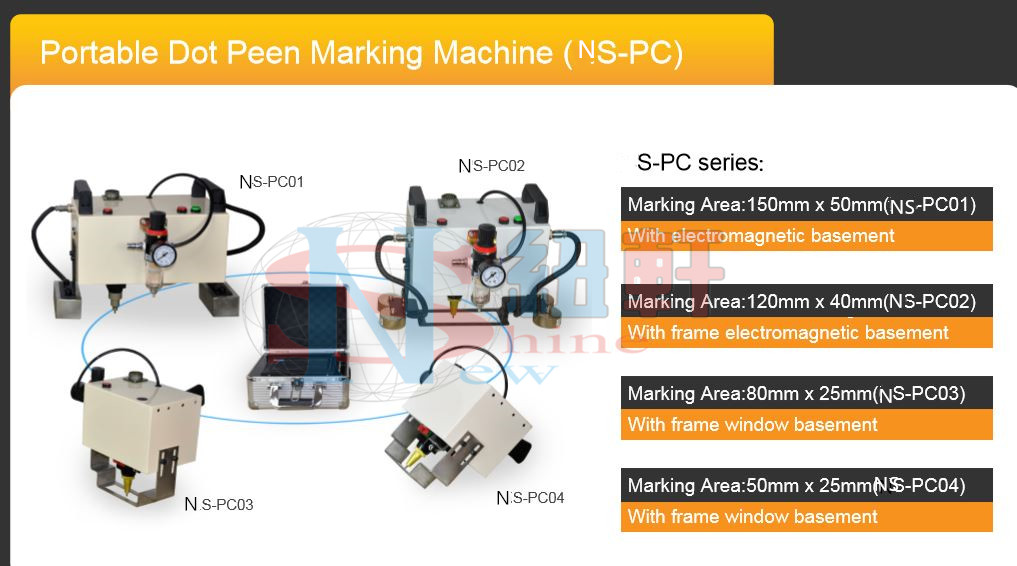 The NS-PC Series Portable Dot Peen Marking System is designed
for marking heavy, large metal parts such as car chassis and
VIN numbers. The machine controller comes fully integrated
with software, touch screen and keyboard, eliminating the need
for a PC. The lightweight portable head and a CNC controller
combine to offer the best user experience through superior
portability and convenience.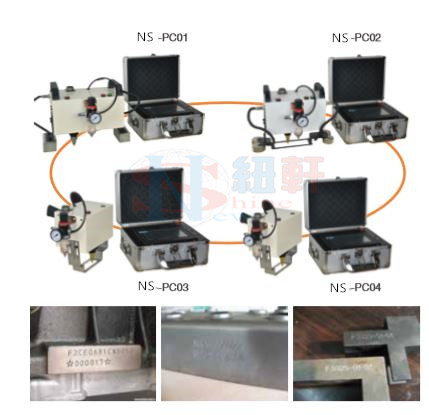 The NS-PC Marking Dot Peen technology ensures consistent impact of the marking pin on the product surface,
leading to clear and permanent marks. Round Text Marking and 2D Data matrix codes etc. is made possible
through our software.

■ Offers standard X-Y motion
■ The imported stepper motor enhances stability
■ The Dot Peen marking system requires air power
■ The NS-PC series with CNC controller, integrated touched
screen and software
■ Hardened alloy tungsten marking pins make deep and clear marking
Performance ■ Deep marking with hard alloy tungsten pins
■ High marking precision and accuracy
■ Marks on various materials in a variety of applications
■ Marking speed of 30mm – 40mm/s
■ Marks with ease up to a hardness of 60 HRC
Portability ■ Lightweight marking head
■ High flexibility
■ CNC controller eliminates the need for PC
Ease of Use ■ Compact and easy to install
■ Robust shell offers strong shock resistance
■ Easy to operate. No training required
■ Low maintenance with 1-year marking-pin life
■ Low electrical consumption
Customization ■ Marking window sizes as required ■ Electromagnetic basement offers stability.
Marking:
Direct Part Marking (DPM)
• Component Identification & Traceability
• VIN code/numbers
• Serial Numbering
• Lot Numbering
• Metal marking and engraving
(Aluminum, steel, copper etc.)
• Plates, tags, labels and pipes
• Logos
• Cast & Forge
• Security codes
• Health & safety appliances
• Time & date
• Equipment parts