New Shine 3D PRINTER PEN
New Shine 3D PRINTER PEN Product Details SpecificationsProduct Name3 D printer PenWeight :45 gHeating temperature :190 degree .Color:Blue Body , Black capPrinter technology :FDMFilament :1.75mm PLAPrinnt Size:unlimited.power supply5VDC , 2A or power bank.Packing List3D Pen *1 , USB cable *1 , Heat Protection Cap *1, 1.75mm PLA filament *5 , User Guide *1Five Major Advantage:Easy and safe to use1.V..
Product Code:

Ns-304

Availability:

1
New Shine 3D PRINTER PEN Product Details Specifications
Product Name
3 D printer Pen
Weight :
45 g
Heating temperature :
190 degree .
Color:
Blue Body , Black cap
Printer technology :
FDM
Filament :
1.75mm PLA
Prinnt Size:
unlimited.
power supply
5VDC , 2A or power bank.
Packing List
3D Pen *1 , USB cable *1 , Heat Protection Cap *1, 1.75mm PLA filament *5 , User Guide *1
Five Major Advantage:
Easy and safe to use
1.Very light weight (45g) so kids can use all day long .
2.Multiple Ways to hold the pen to allow precise drawing.
3.One-button multifunctional design, easy to learn and use.
4.Plug and play with 5VDC2A, mobile phone adaptor or power bank, easy to use even outdoors.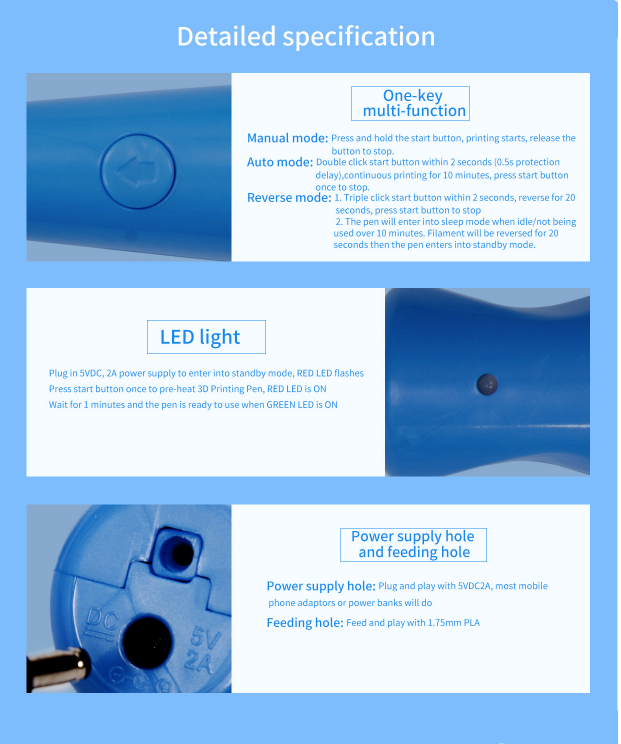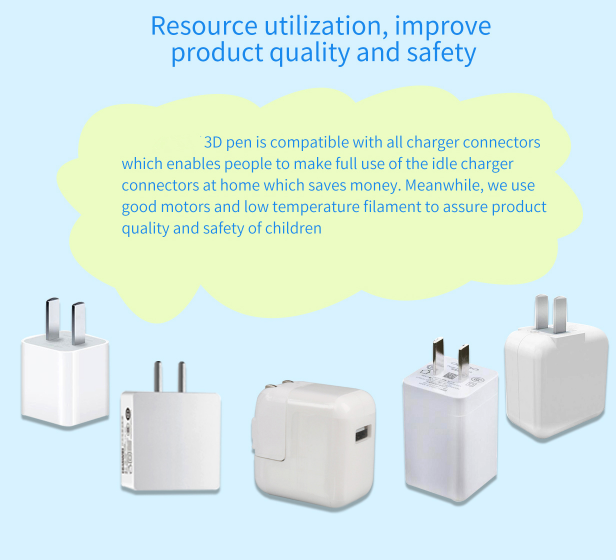 New Shine 3D PEN Product Details Specifications
Technical parameters:
One- Key-muilt-function
Manual Mode, Auto Mode , Reverse Mode
Manual Mode :
Press and Hold button , printing starts, release the button to stop.
Auto Mode :
Double Click start button with 2 seconds(0.5 s protection delay), continues printing 10 minutes , press stop button once to stop.
Reverse Mode:
1.Triple click start button within 2 seconds, reverse for 20 seconds, press start button to stop. 2.The pen will enter into sleep mode when idle/ not being used over 10 minutes .Filament will be reversed for 20 seconds then the pen enters into standy mode.
LED light :
4. Plug in 5VDC, 2A power supply to enter into standy mode, RED LED flashes Press start button once to pre-heat 3D printing pen , RED LED is ON Wait for 1 Minutes and the pen is ready to use when Green LED is ON
Power supply hole and feeding hole:
6.Power supply: Plug and play with 5Vdc2A, most mobile phone adators or power banks will do , Feeding hole : Feed and play with 1.75mm PLA
Resource utilization, improve product quality and safety:
9. 3D pen is compatible with all charger connectors which enables people to make full use of the idle charger connectors at home which saves money.Meanwhile, we use good motors and low temperature filament to assure product quality and safety of children.
Warnings:
1. Avoid touching the hot tip/ black protection plastic.
2. Do not use power supply over 6V to avoid damaging the pen
3.USE 1.75m PLA only(All filament available from US at very competitive prices).
4.Not suitable for children under 5 .Adult supervision is recommended for age from 5 to 14.
5. Make sure the filaments is cut flush prior to loading pen.
6. Don't pull and push while feeding and unloading filament.